Hardware Requirements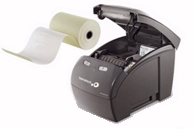 Retail Software POS Professional© is a very light weight program and will run in any Windows based computer you can find in retail stores. Either 32bit or 64bit versions of Windows will work. Even old computers having old Windows Operating Systems will be able to run our program.
For reference, the following specifications below is a guide for the minimum hardware requirements.
POS Computer
400 MHz Pentium Processor minimum
128 MB Memory
SVGA Monitor with minimum resolution of 800 x 600
(Any modern PC made in the last 5-10 years will work)
Operating System
Runs under Windows 98, Windows NT, Windows Me, Windows 2000, Windows XP, Windows Vista, Windows 7 and Windows 8, Windows 10
Note: Either 32bit or 64bit Windows versions will work.
Hardware Add-on Options:
The following are optional POS hardware that you may use. All hardware should be obtained directly from the manufacturer or an authorized supplier.
Cash Drawer
The standard way to use a cash drawer in a POS system is to connect the drawer to your receipt printer. Then, the drawer is triggered by the printer each time a receipt is printed. We recommend using the following printer driven cash drawers, since these are cheaper and easier to install. (Our software does support serial cash drawers as well)
Epson, Star, or NCR Printer Interface
POS Receipt Printers
Retail Software POS supports most Epson and Star receipt printers. Be sure to order the Parallel Interface models, as these are much easier to setup and maintain. (Our software does support serial printers as well)
Impact Printers – Star SP200/300, Epson TM-U200
Thermal Printers – Epson TM-T88, Star TSP series
Report Printers
Any Windows compatible laser, dot matrix or ink jet printer
Barcode Scanner / Card Swipe
The barcode scanner and card swipe should use a keyboard wedge connector (a simple Y connector that goes on the keyboard port). Avoid units that connect via the serial ports
Modem
Only necessary if you wish to process phone orders using the advanced Caller ID interface.
You need what is known as "Dial-Up modem". Do not confuse this modem type with a "DSL modem", which is only useful for high-speed internet services. Also, make sure that your "Dial-Up modem" is Serial interface and Caller ID capable (as not all are).
Reference model: NetoDragon 56K Voice Modem
Back up System
Some type of backup system should be in place, example:
USB Memory Drive
External Hard Disk
External Online Storage Service
Note on Backup Data: Retail Software POS Professional have a backup and restore system. But you will need to copy the backup files externally for the utmost safety of your data. For example: Copying the backup file into a USB Memory Drive or to your External Data Storage Service Provider. If you are connected to a LAN or WAN, then you may choose an external computer folder as the target folder for your backup files.
Misc
100 Base-T Network Adapter (only if you wish to use the program over a network)
UPS (uninterruptable power supply) to have no surprises in cases of electric black outs